Rough Terrain ?
Be ready with Shock Wheel ! 
 
FEATURES


> 80 mm /3,2'' of Oléo-pneumatique absoprtion
> Bolts onto standard spring gears in 2 hours
> For aircraft up to 650 kg / 1430 lbs
> Tested at 4G
> Anti-Roll system included
> 3 kg / 6,5 lbs per side
> Shock Wheel is a patented system

Download PDF
Rans S6-S7, Kitfox, Savannah ICP, G1 Aviation, Magni Gyro, MTO Sport, Bristell XL8, Pipistrel Virus, Sinus, Citius BRM, Aerospool Dynamic, Trail Groppo, Zenair..
TESTIMONIAL
Testimonial of Saint Remy les Alpilles airclub chief pilot, after having installed a Shock Wheel on their Aerospool Dynamic WT9, used as their towing and flight school airplane:
" Contacted by BERINGER a Monday, we have given them the green light for experimenting the Shock Wheel and few days later we were mounting it on our Dynamic.
After 2 months of use and more than 150 landing cycles, the conclusion of this experiment is very positive.
As soon as the rolling starts we feel a sensation of comfort, we don't feel any oscillation anymore, the absorption is very beneficial to the airframe. This feeling is confirmed during take off, with or without a glider behind.
In flight, we haven't noticed any speed cut-down, therefore nor consumtion increase.
At landing the first contact with the ground is perfectly absorbed, even during a "hard" one. The decelaration on the ground shows the same capabilities as during take off.
We noticed a slight transfer of weight on the nose landing gear caused by the heightening of the Shock Wheel " [1'' / 25mm] " but this has no impact on the plane behavior.
The global appreciation of this system is confirmed as very positive, the comfort and airframe preservation are remarkable.
Stéphane Armitano"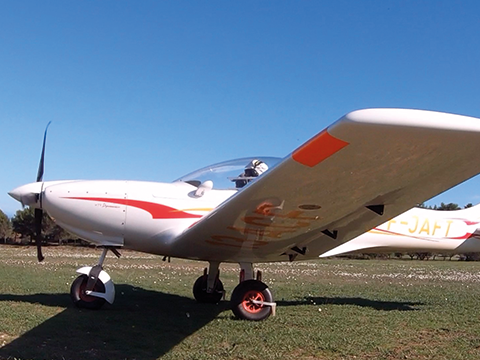 ​​​​​​​