BERINGER wheels and brakes are designed to provide the best braking power by combining progressiveness and reliability.
A wide range of wheels and brakes are available, depending on your aircraft and the use you have of it (flight school, private, all-terrain, ...).

OUR CATALOG INCLUDES MORE THAN 200 KITS FOR Ultralights, homebuilts, GLIDERS, AMPHIBIANS, Gyros ... PDF CATALOG

For more information, do not hesitate to contact us: sales@beringer-aero.com
BERINGER also designs all the upstream components: master cylinders, brake fluid reservoirs, ALIR pressure regulation system, parking brake, stainless steel braided hose and hydraulic connections.
WHEEL TECHNOLOGY :
- BERINGER wheels are machined from high quality, high strength aluminum billet, this immediately provides an advantage over the inherent porosity found in cast wheels.
- The wheels are designed for use with a tubeless tire, this avoids the possibility of a blow out and the omission of the tube saves weight. 
- Wheels are anodized to be protected against corrosion.
- Red color is standard but other colors are available for an extra charge and extra lead times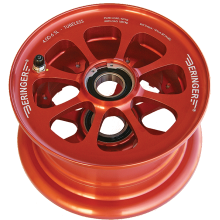 BRAKE TECHNOLOGY :
- Caliper is fixed and the rotor is floating.  The floating rotor design is ideal for maintaining even contact with the brake pads.  Stainless steel clips prevent the rotor from wearing the aluminum wheel flange.  Additionally, the floating rotor limits the contact with the wheel half, which prevents heat transfer to the wheel and tire. The rotor is keyed into the wheel flange and floats to allow for proper alignment as the brake pads wear.
- Brake pads are long lasting and have a high coefficient of friction.  They are bonded not riveted to the back plates, this allows for a higher percentage of bake pad wear as there are no rivet heads to come into contact with the rotor. 
- Absence of brake fade:  on many brake assemblies, as the rotor and pads heat up during a braking event, the coefficient of friction is reduced and the brakes become less effective.  This is known as brake fade.  The compound used for the BERINGER brake pads behaves in the opposite manner.  As the rotor and brake pads increase in temperature, the coefficient of friction of the pads increases.  This is ideal behavior, reason being on initial touchdown when wing lift is still present; the maximum coefficient of friction is not needed as it could contribute to accidental wheel lock.  The technology in the pads provides good stopping force throughout the entire deceleration.