SensAIR®
The new SensAIR system is connected to a mobile app on your smartphone thanks to pressure and temperature sensors slided over your BERINGER rim. Sensors are normally switched off to save the battery (2 to 3 years lifetime) and are activated when the smartphone is detected within a 10ft/3m radius. SensAIR communicates data to the app with a single code per wheel so there is no risk to measure the data of another tire in the hangar...
Low pressure and temperature levels are set by the user on his smartphone so he can receive a notification.
No need to ramp under your plane to check pressure anymore, thanks to SensAIR you can check your pressure before and during each flight!
SENSAIR IS AVAILABLE RIGHT NOW FOR 4",5",6" AND 8" WHEELS, DON'T HESITATE TO CALL US TO PLACE AN ORDER!
SensAIR is a registered trademark of Beringer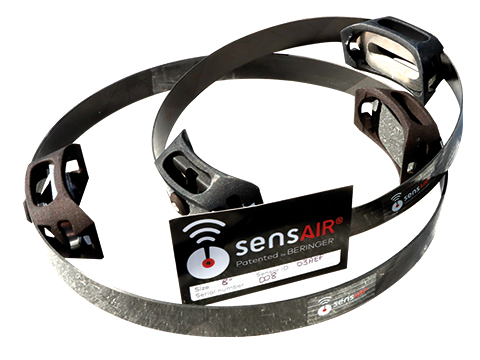 ​​​​​​​
​​​​​​​
​​​​​​​
​​​​​​​